The holidays have always been a time to come together with family and friends to enjoy the company of others, shop like crazy (if you didn't do that on Black Friday), gain some weight and prepare New Year's resolutions that you won't keep. However, we have reached a holiday impasse: 2020. This year relentlessly ruined all of our plans, but we won't allow it to dampen our groove. Here are five activities to spread the holiday cheer.

Build a Gingerbread House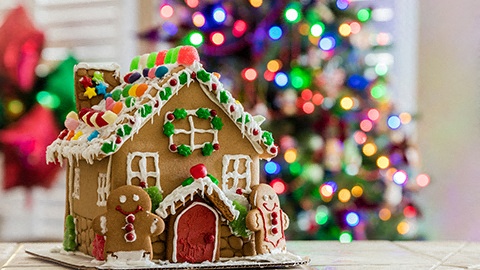 Have a fun day at home making a Gingerbread House from scratch; there are many recipes you can try; just look them up online. Here is an example from Simply Recipes or log on to Amazon or Walmart and have a kit delivered to your home- you can choose from a simple Gingerbread house or try a themed one (Oreo, M&M's, Jelly Bean, Airheads, and the list goes on and on). We won't blame you if the ingredients get lost or munched during the process.

Ugly Sweater Photo Shoot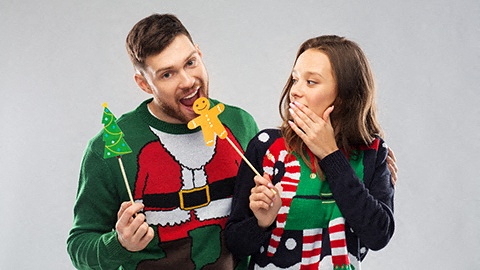 Do your worst! Pick the ugliest Holiday sweater and let the games begin! Try an ugly sweater photoshoot at home with your loved ones. If you want to up the stakes, make a fun bet (like who gets to do which chores), or create a prize for the winner. Laugh and enjoy making fun of each other. ¡May the odds be ever in your favor!

Ice and Lights–The Winter Village at Cameron Run.
Photo: Nova Parks
Visit Ice & Lights: The Winter Village at Cameron Run, take a nice walk along and enjoy the light decorations and stop along the way for some fantastic photo opportunities. You can have dinner first and then take a stroll or enjoy the ice rink. Tickets are available on their website, parking is free, due to the covid situation tickets are limited, and safety protocols must be followed.
Christmas illumination at Mount Vernon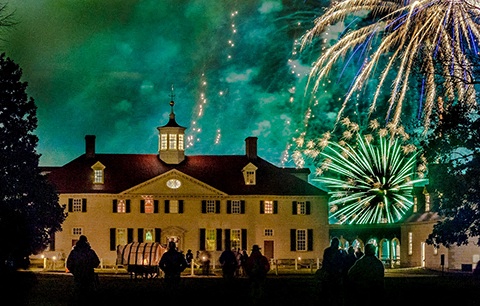 Photo: Mount Vernon

Enjoy the fireworks show on the estate, buy souvenirs or holiday gifts at the shops, warm-up by the bonfire, and even meet a camel. Tickets are on sale at their website and might run out. If that's the case, you can always go to the Winter Glow event where you can enjoy a light and Holiday pattern illumination on the estate while you treat yourself and your loved ones to warm food and holiday drinks, meet Aladdin the camel, and even chat with soldiers at an 18th Century encampment.

Holiday Themed Game Night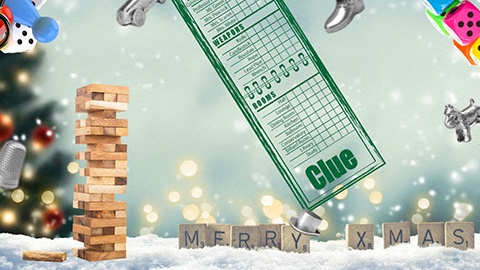 If you prefer to stay at home, but you also want to have a fun night, try playing some Holiday themed games. There are many board games like Jenga and Monopoly that have Holiday themed editions. If you want to play something more active or funnier, you can always do Holiday themed charades or minute to win it. Be creative! If the idea sounds fun, but you don't have any ideas, here are some games you can try.

Given the current situation, the most important thing about the Holidays is attitude. Yes, this year will be a bit more complicated, but that doesn't mean it's not possible. Remember that at Trillium apartments, you have all of these options and more. Use the amazing facilities for all your activities, enjoy Gamenight or pool in the playroom, a lovely evening by the fire, or cook in your brand new stainless steel appliances. All the holiday fun in the comfort of your home.